Archive: Jun 2016
London Management Courses 1/3 Off July-September 2016 Selected Courses
Posted: June 14, 2016 3:14 pm
[caption id="attachment_582" align="alignnone" width="461"]

PTP Central London Training Venue[/caption]
Selected Management Training & Personal Development Courses 1/3 off in Central London
PTP is delighted to inform our clients who can get to our central London venue at 40 Gracechurch Street in the heart of the city that we are able to offer the following 6 management and personal development courses at 1/3 off:
Project Management
13th July
I found the course to be very informative and enabled me to have a more detailed insight into the aspects of delivering a successful project. - John Willocks, Esure
Introduction to Management & Supervisory Skills
13th July
Great course, really feel I have learnt some new skills which will benefit both myself & team. - Emma Castle, Allianz Global Corporate & Speciality
The Effective Administrator
15th July
I feel that this has been very beneficial to help developing upon the skills I already have and also giving me more confidence and conviction in what I would like to do. - Lyndsay Brooks, Doosan Power Systems
Personal Effectiveness
6th September
Enjoyed course, gave me a greater understanding of my own personal drivers and those of others and how to influence them. - Brian Brooks, Bombardier
Negotiation Skills
7th September and 1st November
The course was enjoyable. I learnt a lot about the skills of negotiation. It was delivered in an excellent manner. Thank you. - Rachel Slack, Ramada Hotel
Credit Control
16th September
The course wasn't what I expected. I would say it actually exceeded my expectations and will be useful for my role. - Ewan Anderson, Marks and Spencer
Click on course tiles to view full details including timetables and further testimonials. All these courses have been reduced from £450 + vat to £300 + vat to include lunch, refreshments and framed certificate of attendance as shown below: [caption id="attachment_581" align="alignleft" width="211"]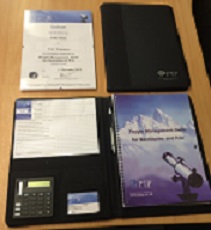 PTP Example of Delegate's Training Materials[/caption] To book either go to relevant course page by clicking above course titles. Select the date and venue above and you will automatically receive the discount when booking online - you even get a further 5% if you book online and pay by card - please note you can book online and opt to pay by invoice as well. Alternatively, email marc@ptp.co.uk and include the course, course date, venue and name/s of delegate/s and your full billing address and contact number and we will process the booking for you.