Archive: Dec 2015
Management & Sales Training - PTP Exhibit at Manchester CIPD
Posted: December 1, 2015 3:00 pm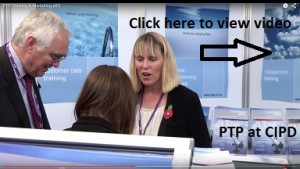 3 weeks ago PTP made its annual trip to Manchester to the CIPD (Chartered Institute of Personnel and Development) exhibition. We have now been exhibiting there for over 10 years and even in the depth of recession, we were still achieving an ROI. This year was certainly one of the best for many years with a huge number of management training and sales training enquiries coming to our stand. Whilst the majority of management training enquiries came from the Manchester and London areas, we got a number of enquiries from abroad including Cyprus and Dubai! From our 200 + enquiries, these were our top requests at the show:
Finance for Non-Finance Managers
Essential Marketing Skills
Introduction to Management & Supervisory Skills
Key Selling Skills
Project Management
Managing Appraisals
The Client Meeting - Face to Face Selling
Click on any of the above courses to view full course details. To find out more about the CIPD show and PTP please click
here
for a 2 minute video.