Archive: Nov 2013
Assertiveness Skills Training deemed 'Terrific' and 'Excellent'
Posted: November 28, 2013 1:44 am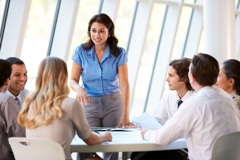 PTP's training course,
Assertiveness & Building Personal Confidence Building
course recently ran in
London
and was attended by Nigel Chisman of Cummins and Katie Hall of The International Trade Centre Geneva. They both gave tremendous feedback on this assertiveness skills training course. Nigel commented, 'Terrific assertiveness skills course tailored accurately for my needs.' and Katie said, ' Trainer excellent. Thoroughly enjoyed this assertiveness skills training course.' Assertiveness skills training has become one of PTP's most popular course in recent years and is now a top priority for many HR and Training Managers. This assertiveness skills course
helps delegates understand why it is sometimes hard to refuse demands and aims to build the skills necessary for behaving assertively in a practical manner. Assertiveness training courses help people develop the required skill set.
Develop confidence in the use of assertiveness skills
Understand different behaviour patterns and the reasons they arise
Understand the need for negotiation and persuasion in the workplace
Practice assertiveness skills and develop an action plan
Excellent training - very useful. - Ruth Foster, Berrymans Lace Mawer Great course, focus on specific needs! - Vicki McAllister, Amino Communications Angie presented the course extremely well and was able to relate the content to my roles. - Gemma Leary, PHS Datashred Suzanne was a lovely trainer with loads of personality, interacted well with group and made the day personal. - Anne Hinson, Siemens Healthcare Excellent course and tutor. - James Evans, Brother International Europe Great course and fantastic teacher. I really got a lot out of todays session. I would highly recommend Suzanne to my company for further training. - Anna Dixon, McCann Erickson Course was excellent. Tracey was fantastic as a trainer. - Kelly Small, Brewin Dolphin With monthly courses running in
London
and bi-monthly courses running in
Edinburgh
,
Leeds
,
Manchester
,
Bristol
,
Birmingham
and
Nottingham
, PTP hopes there will be the right date and venue for those potential
assertiveness skills
candidates in the UK. PTP have had many years of success and had the pleasure to work with many companies to help them achieve their goals with the likes of
Tech Tube
to achieve more sales on
plastic extrusions
. Please click on city names for venue addresses and directions and
click here
for more details on PTP's assertiveness skills training course.